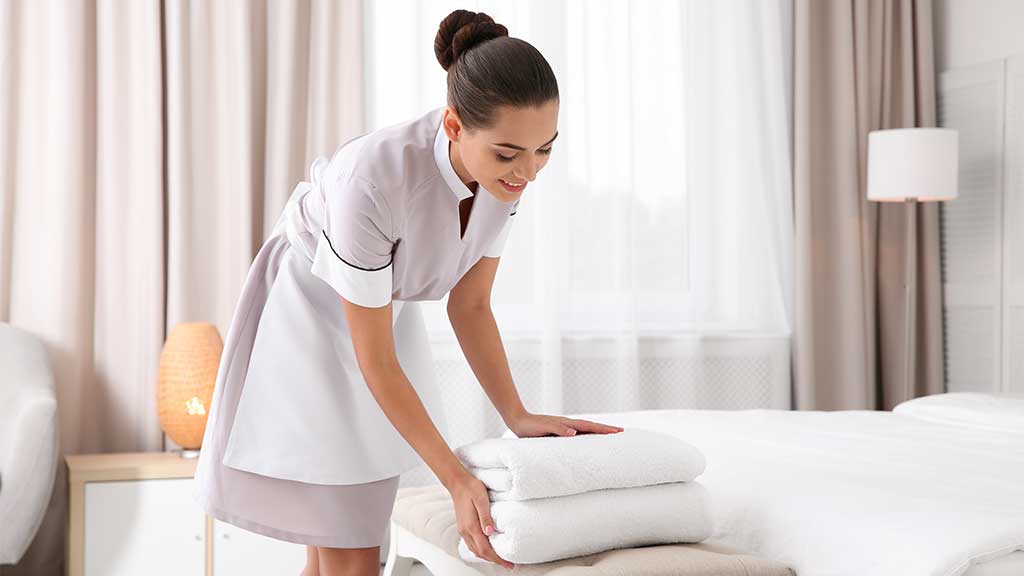 What is the job description of a hotel housekeeper?
If you are on the hunt for a hotel housekeeping position, you are likely to see job postings similar to the one below:
Hotel Housekeeper
Chain hotel in search of a dedicated and caring individual to maintain our rooms, care for our guests and help bring the entire hotel experience together. A hotel housekeeper will primarily be responsible for turning down guest rooms during and after their stay and cleaning minor messes around the hotel.
Hotel Housekeeper Job Duties
Ability to work mornings, nights, weekends and holidays
Ability to multi-task and stay organized to efficiently and quickly turn down rooms
Must have great attention to detail
Will be working with a variety of cleaning chemicals
Will be working on feet most of the day
Must follow all hotel safety and guest-care policies
Great customer service skills a must
What kind of salary do hotel housekeepers receive?
If you are interested in the hotel housekeeping field, your first question is probably, "How much will I be paid?" The current average pay for housekeepers is around $11.00 per hour or $23,000 annually. Housekeeping is different from many other industries. Most industry-pay is dependent on location, not housekeeping. Most jobs in the housekeeping industry have a pay-scale that is dependent on the level of the establishment you work in. For example, a two-star hotel is likely to pay closer to the national average or slightly under whereas a 5-star hotel will pay above the national average.
It's also important to note housekeepers occasionally receive tips. This practice isn't quite as consistent as, say, waitressing or cab-drivers, but it does happen. These tips, too, often reflect the ornateness of the hotel you work for. Expensive or lavish hotels are much more likely to have higher tips.
What is the salary for a housekeeping manager?
This management level of the industry is, on average, closer to $12.00 an hour or $25,000 each year. The high-side of this position can even see pay around $15.00 per hour ($31,000 annually). Again, your pay in this advanced position will depend greatly on the hotel you work in and how large of a team you manage.
How are hotel housekeepers paid?
Like any place of work, the pay-schedule will normally be dictated by the employer. Many large hospitality companies will pay weekly or bi-weekly and give employees options on if they would like to receive a paper check or direct deposit. Smaller hotels may pay on a slightly different schedule or cut a paper check for their employees. This is a good question to ask in an interview if you are concerned about your payment schedule.
What are some common tips and tricks for hotel housekeepers?
Whether you are already a housekeeper or looking to join the industry, it always helps to know the tricks of the trade. Here are a few that can help make the day-to-day easier:
Shine A Light – Turn on all the lights so you can see every nook and cranny that needs cleaning.
Don't Forget About Safety – Be aware of slip or trip hazards as well as any chemical or bodily fluid exposure.
Fresh Air – If you are able to, open the windows to let fresh air in and flush out the stale air.
Clear Clutter First – Remove the bulky trash and linens first so you have less distraction to work around.
Vacuum Before Mopping – Vacuum before you mop so all hair, lint and dust is off the floor before getting it wet.
Let It Soak – Use less elbow grease by giving your cleaning agents time to do their work.
What kind of interview process do hotel housekeepers have to go through?
Hotel housekeepers go through a similar interview process to get their job as most other positions. Interviews will include several questions. Just like in most interviews, you will probably be asked about your experience, shift availability or desired pay. Some questions specific to housekeeping to look out and prepare for are:
Why have you chosen housekeeping as your career of choice?
What do you think are the main job functions of housekeeping?
What do you find most rewarding about housekeeping?
What is the most negative aspect of housekeeping?
What skills do you possess that would make you a great housekeeper?
How do you multitask all the tasks a housekeeper has to do in a day?
How do you handle angry clients and calm them down?
Can you become a hotel housekeeper with no experience?
Beyond a high school diploma, there is no other required education or certification needed in order to become a hotel housekeeper. This is great if you are fresh out of high school or college and looking for work. There are still many skills you are expected to possess to become a housekeeper. These may include cleaning skills, attention to detail, ability to work a varied schedule, and familiarity with the way a hotel works.
If you are having a hard time snagging a job as a hotel housekeeper due to a lack of experience, you can potentially find work in another industry that uses skill sets similar to hospitality. By working a similar job, you will gain experience to add to your resume that will make it more likely for you to get a job in hospitality. These similar  industries include hospitals, private homes, cruise ships and office spaces.
For more advanced positions, such as head housekeeper, concierge, front desk supervisor or head of guest services, you will likely need to pursue specialized training. Many in these positions choose to go back to school for hospitality degrees while others go the route of general business degrees and certifications.
Are there different types of hotel housekeepers?
There are a number of different types of hotel housekeepers. While the names will only vary slightly, the duties can range from just cleaning guest rooms, attending to hotel laundry or cleaning common areas and conference rooms. Some advanced positions include head housekeeper, concierge or head of guest-relations, such as head housekeeper. Depending on the fanciness of the hotel, you may be tasked with further responsibilities depending on the amenities they offer within the room (laundering bathrobes, minibar stocking, etc.)
There are also many other establishments that need housekeepers and their special skill set. These include hospitals, conference centers, cruise ships, private homes and office spaces. Each of these different places requires their own special needs as far as housekeeping goes. That said, working in different fields can help you advance your career or even gain experience to move into a hotel housekeeping position.
What kind of skills do you need to become a hotel housekeeper?
A hotel housekeeper has a whole suitcase of skills that they must use each day. Of course, the most obvious one is attention to detail. A housekeeper must be able to notice the most minute details. If a pillow is not fluffed, dust is left on the dresser or the first piece of toilet paper isn't carefully folded, the feel of the whole room becomes stale. This long list of details isn't normally something a housekeeper keeps handy but, rather, they just have an innate sense for.
A skill set that matches well with attention to detail is a knack for organization. The large carts housekeepers use to navigate their tools of the trade will often have over 25 items on it. If a housekeeper isn't careful to organize and keep track of these items, their job can become ten times more difficult.
Customer service and interpersonal skills are a must. Many guests will stop you in the hall or leave requests with the front desk for special items, preferences or questions. Being able to handle these requests with kindness and empathy is important to the whole guest experience.
Also, housekeepers must be fantastic at time management. Rooms need to be cleaned as quickly as possible and all rooms and additional requests should be managed so the most essential tasks are completed first. Most of the time, rooms must be turned over in a few short hours so new guests can check into the hotel. This means housekeepers must stay focused and balance the workload to accomplish all these tasks in such a short amount of time.
Finally, physical fitness and stamina are extremely important traits for hotel housekeepers to possess. While you don't have to be a gym rat, this job requires frequent bending, lifting, pushing, pulling and squatting, so make sure you're physically able to meet these requirements. Essentially, this job requires that you are on your feet and moving all day.
How many rooms does a hotel housekeeper clean per day on average?
You may be surprised to hear that a hotel housekeeper completes an average of 10-15 full turndowns a day along with another 15 or so "refresher" cleanings (new towels, making the bed, replenish coffee supplies). This may not sound like much, but there is so much that goes into one full turndown. Each room takes an average of 45 minutes or more, depending on the size of the suite. As well, these assignments must be finished within a very structured schedule. Most housekeepers complete their shifts in the mornings and afternoons rather than throughout the day given how hotels check guests in and out. So while 10-15 rooms a day may not sound daunting, doing this job and meeting its requirements are much to be proud of if this is your career of choice.