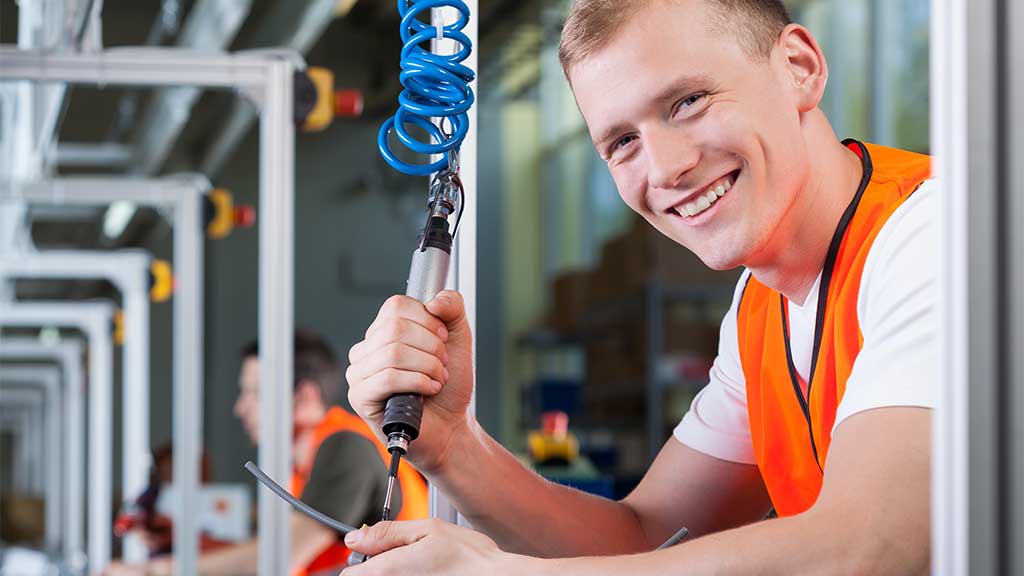 What is the job description of an assembly production position?
Assembler, Production Line Specialist, Assembly/Production Line, Assembly Line Processor. There are a number of names that this type of job can fall under. All of these are used to describe someone who puts together products. A job description similar to the one below will be what you are likely to find in openings for these assembly/production jobs:
Assembler
Responsible for overseeing and completing the assembly of specific products along the production line.
Job Duties Include:
Reading blueprints to understand assembly guidelines
Collecting parts for assembly
Assembling products rapidly while preserving product integrity
Moving assembled products to the next area of production
Maintaining all company guidelines of quality and safety
Great hand-eye coordination skills required
Ability to work extended periods while standing
What is the salary of an assembly worker?
Assembly workers' salaries can range greatly depending on the area of the country you live in, your prior experience, along with the type of assembly you are performing. Right now, the average hourly pay for an assembly production worker is about $13.00 an hour or $28,000 annually. This average, however, comes from a wide range of pay scales based on the factors mentioned earlier. For example, many assembly-line jobs in the automotive industry often see a higher pay — $16.00 hourly or $33,000 annually — due to the more complex assembly these employees are tasked with. Vice versa, assembly jobs putting together simpler items such as plastic siding or packaging food can run on the lower side of the pay scale, at $11.00 per hour.
Many times, these vast differences in pay are not just related to the item being assembled, but the prior experience or expertise as well. Many lower-paid positions are entry-level and require little to no prior experience to be hired. For more difficult builds, a company may want five or more years of experience and possibly even special certifications. Some assemblers utilize forklifts or solder in order to complete their tasks. With this being the case, a company would be looking for a specialized assembler with these certifications and, as you guessed, these certifications also come with a higher salary.
The great thing is that there is room for growth if you want to make this job a career! While you may be working on the lower side of the pay range at the start, you would be able to walk into a job with no prior experience or training. From there you could easily specialize by pursuing different certifications all while racking up years of experience to list on your resume.
Where do assembly production specialists work?
Given the nature of the job, many assembly production specialists can be found in a factory setting. They often work along production lines or production stations so that they can assemble their products and then pass them along to the next station in the production process.
There are some assembly jobs that work in outdoor or warehouse environments where there may be less structure to the production area. The job functions the same way though, to assemble and build a product.
Often, this job will require employees to wear personal protective equipment (PPE) such as safety glasses, fire-retardant clothing or steel-toed boots. This is usually because the materials, products or process of assembly can be dangerous. Tools may malfunction, parts may get dropped, and so these measures are often required to keep workers safe.
Likewise, many of these positions require a lot of standing, walking, squatting, lifting, pulling or pushing depending on the assembly needs. Since an assembler is taking raw materials and turning them into a finished product, there is always a lot of movement involved in the process. This means that if you are considering a job as an assembler you need to make sure you have the strength and stamina to withstand these tedious working conditions.
What kind of skills do you need to work in assembly production?
Assembly jobs take place in a fast-paced environmentthat requires a great deal of accuracy. That being said, it is important that you are able to handle the stress of a fast-moving workday while completing your assigned tasks precisely. As well, Assemblers must be dexterous since they are most often working with their hands to put products together.
Assembly production jobs usually require you to be able to read blueprints, compute simple math and be able to use an array of tools. In addition to these skills, an Assembler should be physically fit enough to have the strength and stamina to keep up with the work.
What qualifications do you need to meet to work in assembly production?
Just like with pay, your required qualifications will vary based on what exactly you will be assembling. Simple products are likely to be entry-level jobs that requireno prior experience or training. When you begin to produce specialized products such as vehicle parts, electrical systems or medical equipment, the employer may require previous experience or specialized certifications to take you on as an employee.
To begin working as an Assembler immediately, you don't have to have any special qualifications. As we discussed before, you may start in the lower range of the pay scale, but there are jobs available with no special qualifications needed.
If you are looking for something a bit more specialized or with higher pay, you can pursue certifications in special or hazardous materials, electrical wiring, industry safety standards, or soldering. These certifications can help boost you to the top of the candidate list for those higher-paying assembly jobs.
What kind of training do you need to work in assembly production?
There is no training that is required prior to taking an Assembly job, but there is likely to be some after you accept the position. Companies have to teach you not only how to put the products together, but how to use any tools or special materials according to their policies. These training sessions will be on the job and can last a few weeks after you have been hired on. They may come in a formal training style where you report to a trainer and training space or you may simply learn as you work as an apprentice on the floor. This will depend on the company.
As far as specialized training goes prior to applying for an assembly or production job, while you are not required to have any before applying, there are some that can help boost your resume. As we discussed earlier, these can include:
Hazardous Materials Handling

Electrical Wiring

Industry Safety Standards

Soldering
How do I get hired for an assembly production position?
As with any job, you can start your job search by Googling "assembly production jobs" and your city or zip code to find general openings nearest to you. Depending on the amount of manufacturing in your area, you may be overwhelmed by the number of results and trying to decipher what company, job responsibilities or benefits may be best to go with. If this is the case, your best option may be to speak with a local recruiter. A recruiter or staffing agency can take your non-negotiables (pay, benefits, desired shift, etc.) and help find you a job that helps fit these needs. As well, staffing agencies often have jobs available with the companies they work for that you may not be able to find online.
Once you have spoken with a recruiter or applied online to a few jobs you should prepare your resume to show relevant job information. For Assembly jobs, it is important to show your interviewer any relevant skills or experience you have as it relates to the job. These can be:
Skills you possess that the job requires
Experience building or repairing things
Familiarity with tools
Special training or certifications<
By preparing your resume and collecting your thoughts on your most relevant items to the job you can shine at your interview as the right candidate for the job.